It was in summer camp. There was a beautiful, funny and kind girl named Natasha. The other girls didn't like her. They always teased her. She tried to be friends with those girls but it didn't help. "Natasha, don't sit by us at lunch. This is our table," said Dasha, the meanest girl.
Natasha wanted to leave the summer camp.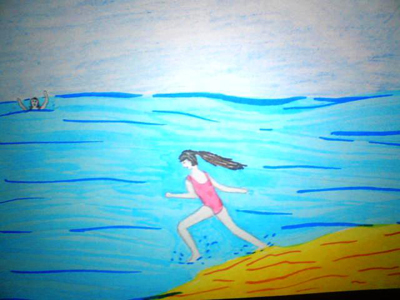 One day when all the girls and boys were swimming in the sea, Dasha had trouble in the water and cried, "Help! I'm sinking!" She couldn't swim back; it was too far. Nobody heard her. Only Natasha saw the girl and swam out and saved her. Natasha is a good swimmer, and knows life saving.
When everyone heard that story, they ran up to Natasha and congratulated her for saving Dasha's life. From that day, everyone respected Natasha.
Exercises
I. Understanding the Story
What do you think is the main idea of this story?
II. Vocabulary
With a partner explain what the words mean in the story.
1. teased
2. trouble
3. life saving
4. congratulated
III. Now you Talk
1. Why did the girls tease Natasha?
2. What conclusions can you make about these girls?
IV. Now you Write
1. Write a character description of Dasha or Natasha.
2. Write a description of the camp and camp activities.
3. Write a congratulatory letter to Natasha for saving Dasha's life.
V. Grammar Practice
Change the verb from the past to the future tense.
Example: They teased her. They will tease her.
1. They swam in the sea.
2. They ran up to Natasha.
3. She congratulated her.
VI. Role Play
1. Natasha and Dasha: Dasha tells her she isn't wanted in her group.
2. Natasha and the writer: She asks Natasha to stay at the camp.
3. Natasha and camp director: They talk about Natasha leaving.
4. Natasha and Dasha: They talk after the swimming incident.