I met Alexandra two years ago and she told me about her life and her dream. She was a vet and wanted to open a pet clinic.
She said, "I need a lot of money to pay the rent. It is hard to find a good place. And when I find a good place, the owner of the shop asks a really high price! I don't know what to do. I don't have any ideas about how to get the money."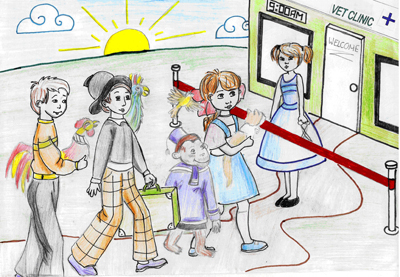 Alexandra was very upset so I decided to help her. I told my friends about her, and we agreed we wanted to help her. We started working together to raise money for her dream. We worked as babysitters, waitresses, anything we could think of. After two months we had all the money we needed.
Get the Flash Player to see this player.
We paid for the rent. Alexandra could open her own pet clinic! She was very happy. "I'm very grateful that you helped me! It would have been impossible without you! My dream came true!" she said.
I said, "I'm very happy that our efforts were not in vain!"
Now, Alexandra has a great pet clinic, and we have become
best friends.
Exercises

I. Understanding the Story
What do you think is the main idea in this story?
1. There is usually a solution to a problem.
2. One should not have difficult dreams.
3. Vets take care of animals.
II. Vocabulary
With a partner answer the questions about the words in bold.
1. What different types of clinics are there?
2. Do you own anything? What?
3. When was the last time you were upset?
4. For what types of things/places does one have to pay rent?
5. When are you grateful? How do you show gratitude?
III. Now you Talk
1. Discuss a time when you were grateful for help from another.
2. What does one do in a clinic? Have you ever been to one?
3. Why are vets important? What is the long word for a "vet"?
IV. Now you Write
Write your opinion of this story.
V. Complete the Sentence
Match the two parts to make a correct sentence.
| | |
| --- | --- |
| A. Alexandra | 1. babysitting. |
| B. She didn't have | 2. to make her dream come true. |
| C. My friends and I | 3. money for the rent. |
| D. We worked at jobs like | 4. very grateful that we helped |
| E. We earned enough | 5. wanted to help her. |
| F. Afterwards Alexandra was | 6. wanted to become a vet |
VI. Role Play
1. Alexandra and the writer: Talking about the problem with the rent.
2. The writer and two friends: Discussing how they are going to raise the money.
3. Alexandra and the owner of the shop: They discuss the price of the rent.
4. The writer and her father: They disagree about her raising money for her friend.
5. The writer and her brother: She tries to get him to help raise the money.